PICTURE-PERF | BESPOKE METAL DESIGN
The range of possibilities is endless and limited only by imagination. Welcome to your potential and contact us
How does Picture-Perforated work?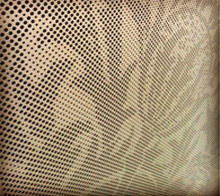 Pixel-Perf involves taking an image/graphic and translating it onto metal by perforating different size holes into a metal sheet. The process is similar to printing. Instead of dots, holes are used to create an image, giving a near photographic result. A more abstract result is available, depending on preference, offering an added extra dimension.
Different sized holes can be used to create alternative densities and shading, offering a fresh and completely new perspective to how Architects and other building industries apply perforated metal.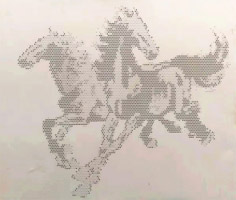 These striking products are custom-made, using perforations to create long-lasting images in a variety of metals. Pic Perf can be installed in custom-designed metal facades, or used as balustrades, fencing or an innovative addition to walkways or interiors, providing a unique metallic textural finish that is tough and durable. They can be manufactured to any size, to fit internally or externally, with untreated or anodised/powder coated options, depending on application requirements. The facades come as a single metal panel, or can span multiple ones.
Our clients have already made use of our innovative image based facades in their building designs. Across Australia and New Zealand, bold and striking perforations have been used in interesting ways to add meaning and texture to commercial architecture.
TECHNICAL DETAILS
| | |
| --- | --- |
| Hole Size | Larger hole sizes give greater contrast and smaller holes give greater detail. Both detail and contrast are equally important to achieve a balance |
| Hole Shape | Round, Square, Slotted, Custom hole shapes are also available |
| Thickness | 1 to 8mm but 2 to 4mm being the most popular |
| Sheet sizes | Standard sizes up to 3m x 1.5m. Longer sheets can be manufactured by special request. Please note nonstandard sizes increase costs |
| Percentage open area | 15% to 50% open area. Small holes using various size perforations to achieve shading will result in lower open areas, larger holes will achieve higher open areas. |
Discuss with us now! let us help you achieve your unique creation.
Contact Us